Handshake is your one-stop shop & world-class career development platform.
Before you move on, check out this video.
Not sure where to start, or know exactly what you need? Use your Handshake account to:
Opt into career clusters

​The CCD uses career clusters to facilitate broad exploration within an industry. By selecting one or more of your interests, you'll receive information throughout the year specific to your career cluster(s). To opt in, go to Handshake and click your name in the upper righthand corner and scroll down to "Career Interests". Once you select the career cluster(s) you are interested in, Handshake will prioritize job and internship postings in these clusters for your profile. Remember, you can always go back in later and change which career clusters you would like to pursue.

Schedule a career counseling appointment

CCD career counselors can help with major and grad school exploration, career assessments, resume reviews, mock interviews, and more!

Search and apply to externships, internships, jobs, and on-campus interviews

Employers want to hire Rice talent. Handshake is the CCD's job and internship database. Unlike other job search websites, employers who post in Handshake are specifically looking for Rice students and alumni. Use Handshake to apply for externships, internships, jobs, on-campus interviews, and to RSVP to events. You can also opt-in to making your profile searchable by employers.

The CCD can help you connect with employers in every career cluster, whether you want to explore job fields or network with people in your industry – on campus or beyond the hedges. You can also explore careers through job shadowing (externships).

You can also sort by career cluster by clicking the job search function, go to advanced options, then click labels to choose the cluster(s) of your choice.
Explore upcoming events, employer profiles, and career fair attendees

RSVP for workshops and employer events including information sessions, on-campus interviews, and career fairs.

Access great resources including FOCUS II, Optimal Resume. What Can I Do With This Major, Vault, and more!

Resources are available 24/7 on Handshake for exploring career paths, compiling your resume, CV, and cover letters, interviewing, international student information, professional attire, and more.
Rice University and the Center for Career Development (CCD) makes no representations or guarantees about positions posted by employers through this office. The CCD is not responsible for safety, wages, working conditions or other aspects of off-campus employment. Due to the volume of jobs received by this office, we are unable to research the integrity of each organization or person that lists a job with us. Therefore, you are urged to undertake this responsibility yourself. If you are suspicious about a job listed in Handshake, please email us.
Handshake Privacy Policy · NACE Privacy Policy
How to log in
---
Click the photo below to login with your Net ID and Password.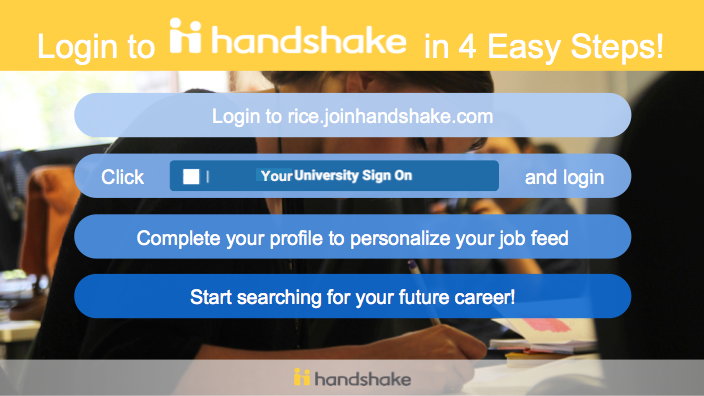 Check out this video to learn how to complete your Handshake profile:
FAQ's
---
How do I make an appointment with a career counselor?

Login to Handshake from the button on your left to make an appointment with a career counselor.
Click on "Request Appointment."
Select your category and appointment type.
Click on the calendar and choose a date to check for availability.

How do I cancel a career counseling appointment?

Log in to Handshake from the button on your left.
Click on Your Upcoming Appointments.
Click on the blue text that lists the name of the Career Counselor with whom you'll be meeting" under the "How do I cancel a career counseling appointment?"
Click on the red "Cancel Appointment"button.
Please email us at ccd@rice.edu if you need to cancel less than 24 hours before your appointment time.

How do I RSVP for events?

To register, log in to Handshake and select your event from the list of upcoming programs. You can also view all upcoming events on our calendar, which is embedded in the homepage of our website.

How do I interview on campus?

Take advantage of all the companies coming on campus to interview you by exploring the On-Campus Recruiting schedules in Handshake!
First, you'll need to apply, following each organization's deadline for resume submission. You'll find all the information you need to know in Handshake. Carefully review the instructions below and let us know if you have any questions! All interviews are in Huff House or the Fondren Library unless otherwise noted. Please note your interview location in Handshake before arrival.
Log in to Handshake using the login box on your left.
Go to the "Profile" tab and make sure ALL of your information is correct.
Under the "Attend tab" on the left-hand navigation bar, select "Interviews".
Use filters to narrow your search, or just browse through the companies listed.
Click on the company name when you are ready to apply and submit your application by clicking "Apply" in the top right corner of your screen.

See an interview schedule listed as Room Only? That means the employer is scheduling interviews on their own, outside of the Handshake system. Employers often have Room Only schedules the day after the career expo with students they met there - another great reason to attend the expo, get your questions answered, and maybe even get an interview!

Want more info on signing up for interview slots in Handshake? Use this link: https://support.joinhandshake.com/hc/en-us/articles/218693438-How-do-I-s...

How do I check my application status for on-campus interviewing positions?

In Handshake, you will be able to keep track of the status of your application in the applications section.
Click "View Your Applications" on the left navigation bar to stay up to date with your application status.
Application Status Definitions:

Pending: This application has not yet been reviewed.
Primary: Chosen as a primary candidate on an interview schedule in Handshake.
Alternate: Chosen as an alternate candidate on an interview schedule in Handshake. Please note that being selected as an alternate does not guarantee you an interview slot; there may be a few slots available or none at all based on the employer's interview schedule, the number of primaries they have selected, and if each primary accepts their interview slot.
Hired: Marked by the employer or career services center as hired for a job posting or interview schedule in Handshake.
Declined: Marked by the employer or career services center as declined for a job posting or interview schedule in Handshake.

Still have questions? Visit the Handshake Support website here.
Need Help?
---
For help in your career exploration and career development, schedule an appointment with one of our career counselors.
Quick Help Without an Appointment
---
Take advantage of our 'no appointment needed' policy with our same day Drop-In service. Our career counselors can help answer your questions with 10-15 minute long appointments from 12-1pm M-F while classes are in session, on a first come, first served basis.
Find the CCD.